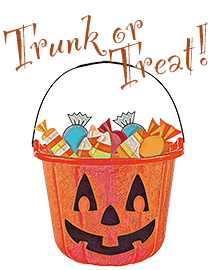 Don't miss out on this safe and fun way to help the kiddos show off their costumes and get that Halloween candy! This completely free event will take place in Saint Miriam's parking lot on Saturday, October 21st from 3pm to 5pm.
Costumes are encouraged, and we'd love to see some (tastefully) decked out Halloween trunks.
This event is a fun time for everyone! We need kids in costumes and adults with trunks full of candy. Please let us know if you are planning to participate clicking here and filling out the form!